Part Number: UBDA220#AU

UHF Line Amplifier, 350 m, LocalDiagnostics, 5-26VDC, 50ohm

The Becker UHF Bi-Directional Amplifier is typically used in Mining, Shipping, Tunneling, Motorway and In-Building radiating cable systems to compensate for Leaky Feeder Cable longitudinal losses in both directions simultaneously.
Becker BDA specifications are optimally suited to maximize these performance criteria. The BDA serves to maintain the strength of RF signal levels along the Leaky Feeder coaxial cable. The amplifier is unique in that it offers the lowest possible noise contribution to an already weak RF carrier when operating in collocation with a strong carrier. The connectors of the inline amplifiers have been designed for ease of connection making installation and repair as convenient as possible. The Power Source required from the Leaky Feeder cable is 5V to 26Vdc. The most important performance criteria of a BDA are: Channel capacity - Number of simultaneous voice and data Channel quality (clear voice channels, data channel, and integrity). Channel isolation (Freedom from inter-modulation distortion). Distance achievable away from the cable. Reliability and Mean Time-Between-Failure channels.

Becker BDA specifications are optimally suited to maximise these performance criteria.
DC Power - Voltage status indicators on front panel.
DC Power - Amplifier Current consumption indicators on front panel.
Downlink signal strength indicators - to ensure line spacing is correct.
Uplink AGC ON indication - to ensure up-link is working correctly.
Integrated Cable Length Compensation (CLC) to simulate additional cable lengths as necessary.
Optimized noise performance in VHF Leaky Feeder systems.
Carefully distributed amplification using low voltage GaAs devices in both directions to optimize overall figure under dynamic (Small and Large Simultaneously) conditions.
Transorb Diodes that clamp transient energy at defined voltage levels.
Switch-mode Voltage Regulator which reduces the applied voltage on the Leaky Feeder line down to the internally required 3 volts.
A poly-switch to protect the amplifier circuitry in the event of excess current drain.
Quick Links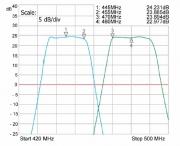 Amplifier Responce Curve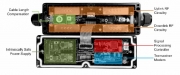 Amplifier Internal Layout