PTToC (Push To Talk over Cellular)
PTToC technology is not new and has been around for over a decade, however in the early days it was simply a switch and application bolted onto an AMPS cellular
Phone to enable "one to many" "walkie talkie" communication.

This was beset with dropouts and often users not allocated a channel and missing out on broadcast calls.
Times have changed, with GSM and WCDMA mobile
networks, the data speed through ongoing compression protocols have now made PTToC an attractive alternative to traditional PMR/LMR networks.

While many systems on the market have relied on an application running via an Android or iOS device, the emergence of dedicated hardware transceivers
and platform servers is now changing the communication landscape. Android and iOS devices can be preoccupied with email,
Web Browsing, Facebook or many other applications that effect the sole purpose of PTT communication.

The ToooAir solution brings to the Australian market a hardware and software platform dedicated for Australia Wide coverage.
The TA-388 transceiver in its traditional two-way radio form factor offers a large capacity battery for extended talk time, drop in charger
and pre-programmable buttons.
The simplicity of the user interface and ease of use to establish "one to one" and "one to many" communication and broadcast calls is key to the system operation.
In addition, compared to most LMR systems, the ToooAir system delivers country wide coverage through the WCDMA Next G 850Mhz network.
With over 7000 repeater sites situated around Australia, the network offers unsurpassed urban and rural coverage and improved in-building and in-tunnel reception.

Enhanced features include GPS tracking, priority call, hierarchy call handling, text message, group call, dynamic group reprograming, stun,
one to one excluding dispatcher,
geo fencing and network voice record are all included on the ToooAir platform.

Dispatcher Software
---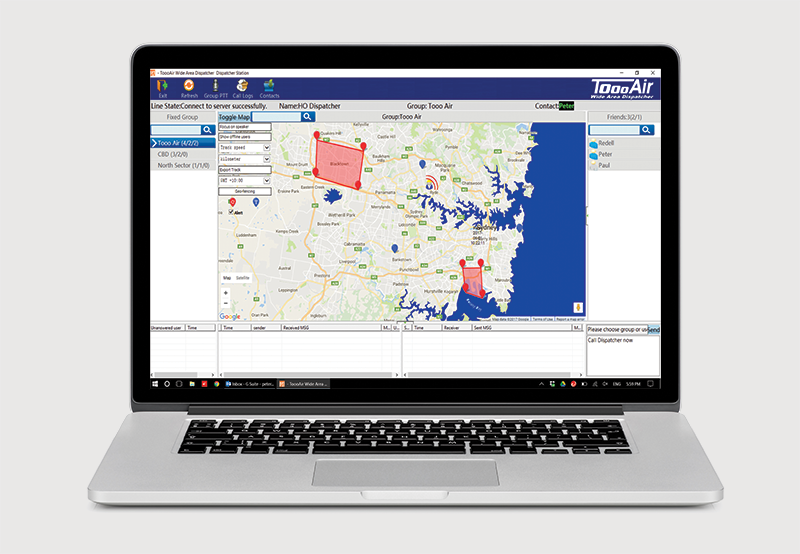 The user interface of the ToooAir-PTT graphic dispatch software
enables quick and easy access and visibility to all users in your fleet.

Call set-up to single individual users, pre-defined groups and dynamic groups is easily
configured using the GUI of the dispatcher software. GPS tracking, Text messaging,
Radio Stun, Geo Fencing, Dynamic group allocation and Voice record are just some
of the features offered with the ToooAir PTT dispatcher system.