TX3510WS
Quick Overview
Wireless PTT

Steering wheel mount for convenient and safe operation.
Flexible mounting options.
Large PTT button.
Two user programmable function keys.
Handsfree microphone with 2.4 m lead.

Ask a question about this product
TX3510WS with wireless PTT & ScanSuite

UHF radio powered by digital signal processing for Pure Sound
For some time vehicle manufacturers have recognised the advantage of steering wheel control over auxiliary devices,
this feature is common place today, offering enhanced safety, convenience and ease of operation.
GME, the world's largest manufacturer of UHF CB Radio also acknowledges the critical benefit of steering wheel located,
finger tip controls and is now offering a unique wireless steering wheel mounted PTT.
Two additional buttons offer user programmable functionality, including up/down channel change, scan function and priority channel selection.
Whether you are a professional truck driver or an occasional road user, the innovative GME W1 wireless PTT and handsfree microphone,
available in the TX4500W, TX3510W and the TX3520W, is set to revolutionise both your driving safety and radio communications experience.
Australian made UHF CB radios now have a 5 year warranty.
Wireless Features
Wireless PTT
Steering wheel mount for convenient and safe operation.
Flexible mounting options.
Large PTT button.
Two user programmable function keys.
Handsfree microphone with 2.4 m lead.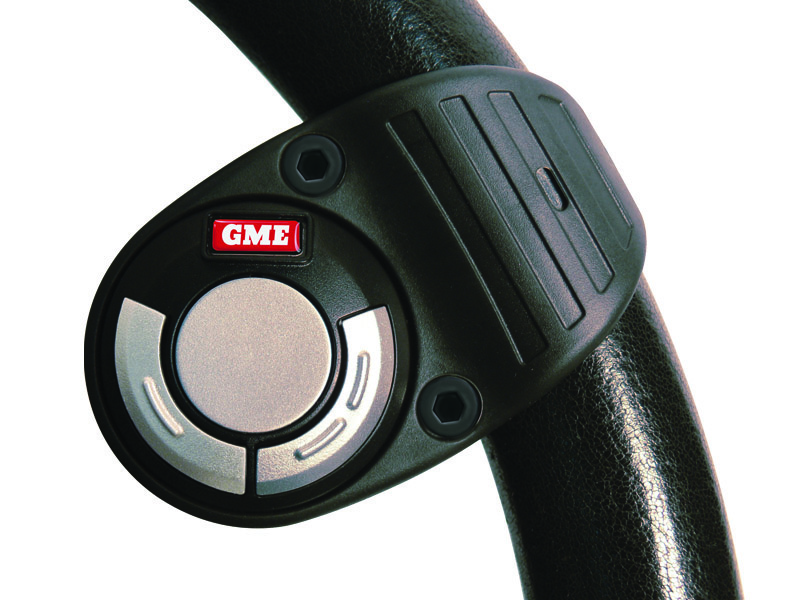 The compact fully featured TX3510 has an impressive list of both advanced and standard features,
many of which have never been seen before in a UHF CB Radio.
With the latest in DSP technology providing a comprehensive feature set coupled with rugged construction,
ease of installation and renowned GME reliability, the TX3510 has rewritten the standard for UHF CB Radios.


Radio Features
User adjustable full spectrum LCD back-light
Advanced signal management
Dynamic volume control
Voice Inversion scrambler
Rotary squelch, channel and volume controls
Open and group scan
Rear mic option
Memory channel quick select
CTCSS and DCS
Duplex
5 digit selcal with quiet mode
Digital signal strength meter
95 user programmable extra receive channels
Supplied With
TX3510S
Mounting Cradle
Microphone
Microphone Clip
DC Lead and screw pack
W1 wireless remote
Hands-free microphone
Steering wheel clamp
Rear dress plate and fixings
Adhesive pad
Instruction manuals
Specifications
General
Compliant Specification
Meets AS/NZS 4365 for radio communications equipment in the UHF citizen and personal radio service.
Frequency Range TX
476.425-477.4125 MHz
Number of Channels
80
Channel Spacing
12.5 kHz
Operation Mode
Simplex or half Duplex with repeater talk around.
Scanning Speed
50 ms per channel (20 channels per second).
Antenna Impedance
50 Ohms nominal
Nominal Battery Voltage
12 volts DC
Operating Voltage Range
10-16 volts DC
Battery Polarity
Negative Earth
Standard Test Voltage
13.8 volts DC
Overvoltage Protection
30 volts DC maximum. At 18 volts DC the channel display flashes 'Hi DC' for 5 seconds on receive. The RF power is reduced and TX flashes on transmit.
Reverse Voltage Protection
Diode Crowbar
Overcurrent Protection
In-line 2 Amp Fuse
Operating Temperature
-10°C to 60°C
TRANSMITTER
RF Output
5 watts
Spurious Emission
< - 70 dBc
Frequency Error
< ± 1.5 kHz
Modulation
FM
Maximum Deviation
< ± 2.5 kHz at + 20 dB limiting
Transmit Frequency Response
+6 dB per octave 300 Hz to 3 kHz +1-3 dB
Demodulated Audio Signal to Noise
> 45 dB unweighted
Current Consumption
1.7 Amps with 50 Ohm termination
RECEIVER
Intermediate Frequencies
38.85 MHz, 450 kHz
Sensitivity
- 123 dBm for 12 dB SINAD unweighted
Selectivity
- 6 dB at + 3.5 kHz, - 60 dB at ± 12.5 kHz
Intermodulation Immunity
-72 dB
Blocking Immunity
-98 dB
Spurious Response Immunity
70 dB
Audio Output Power
3 watts average into 4 Ohms
Audio Signal to Noise
> 45 dB unweighted
Current consumption
< 175 mA muted 750 mA Full volume.
Conducted Spurious Emission
< - 70 dBm
MECHANICAL SPECIFICATIONS
Dimensions
29 (H) x 128 (L) x 117 (D) mm
Weight
450 grams
Antenna
SO239 panel socket
External Speaker
3.5 mm mono jack
Microphone Port
6 Way telephone style with rubber strain relief